Meet Tomorrow's Top Culinary Talent Today with The Young Chefs Event
Watch the wrap up video of this year's Young Chefs' Competition presented by Alexis de Portneuf
With an abundance of delicious local wines, produce, and top-tier restaurants, it's no surprise that the Okanagan is home to some of the best chefs in British Columbia. Of course, every great chef had to start somewhere, and we are lucky that so many young up-and-coming culinary talents call the Okanagan home. That's why the Okanagan Wine Festivals has teamed up with Alexis de Portneuf, the renowned Quebecois cheese maker, to bring you The Young Chefs event.
This fall Okanagan Wine Festivals event will see ten young chefs and four Apprentice Chef teams from Okanagan College create delicious cheese-focused recipes in a competition that will see the winner named the Top Young Chef. In a classic Okanagan Wine Festivals twist, we are pairing each young chef and his/her recipe with a winery to add to the fun.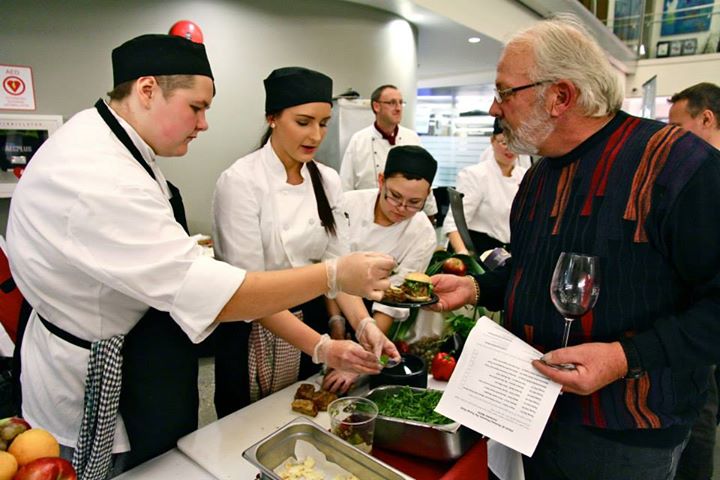 Each Young Chef will prepare enough small plate portions of their unique recipe to go around the room. The dish will be offered with two different Okanagan wines that the Young Chef used to determine the pairing of his/her recipe, so you can taste the full experience. Consumers will be given a ballot and are able to vote for their favourite food and wine pairing of the evening and the Consumers Choice Award will be awarded at the end of the evening, along with a cash prize for the Top Young Chef as judged by the consumers.
A handful of professional judges will also be on hand to judge each Young Chef based on their creation, planning, and execution of their recipe and its pairing with their selected wines. These judges will award the Top Young Chef trophy and a cash prize of $1000.
The event is being held at the Okanagan College atrium, and in the spirit of the competition, guests will be able to try recipes from four apprentice teams of students who are enrolled in the Culinary Arts Program at the Okanagan School of Business to compete in a competition that's all their own. Our judges will assess these four apprentice teams separately and the winning team will win an award for their efforts.
This incredible event will give 150 lucky ticket holders a chance to meet tomorrow's top culinary talent today, and all for just $60 including a free taxi ride home. That's a lot of wine and cheese goodness at a beautiful venue for the cost of a nice dinner at a fancy restaurant!