August 16, 2019
B.C. Wine and Food Truck Face-Off!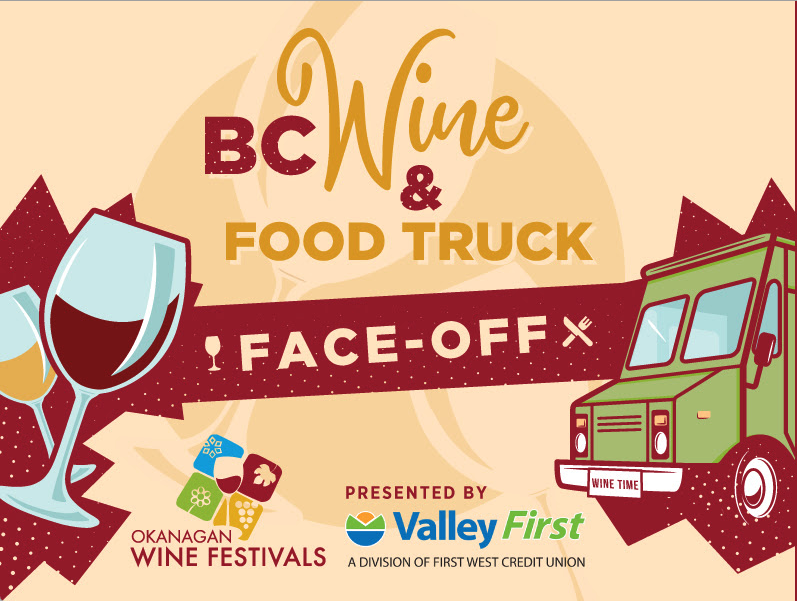 It's a face-off like no other! Presented by Valley First is the B. C. Wine and Food Truck Face-Off! Enjoy Okanagan wines paired with custom-made bites from seven different local food trucks at this one-of-a-kind, festival-feeling event. Everything from locally-inspired cuisine to samplings from far-off places have been paired with unique local wines for guests to experience, and live entertainment will keep the party going throughout the evening! At the end of the night guests can use text-to-vote (so make sure you bring your cellphone) to vote for their favourite pairing who will be awarded the winner! Come experience this street food and wine face-off and see what pairing tickles your fancy!
This is a 19+ only event.
Additional Details
Cost
$85.00
Location
Okanagan Mission Community Hall
Start Time
7:00 pm
End Time
9:00 pm
Region
BC VQA East Kelowna Slopes
Categories
Buy Tickets »
---
Sneak peek at some of the wineries and wines you will see at the event.
Pinotage Reserve
Gewurztraminer
Pearls Traditional Brut
White Pinotage
Dirty Laundry Vineyard
Hush
Say Yes Pinot Gris
Dangerous Liaison
Woo Woo Gewurztraminer
Sperling Vineyards
Pinot Noir Rose
Speritz Pet Nat
Organic Market Red
Market White
Share on Social Media
---
Check Out Some Similar Events
?> ?> ?> ?> ?> ?> ?> ?> ?> ?> ?> ?> ?> ?> ?> ?> ?> ?> ?> ?> ?>
BC Lieutenant Governor's Wine Awards
British Columbia's oldest and most prestigious wine judging competition that recognizes excellence in winemaking for all British Columbia wineries.
---
Meet our Members
The Okanagan Wine Festival Society is made up of a number of Okanagan wineries and tourism related businesses. Every member is recognized as an outstanding service or product supplier in their related industry.
---
Events
We're proud to produce 3 seasonal festivals with over 100 events annually and an annual wine competition in the Okanagan Valley – one of the world's most renowned wine regions.
---