May 7, 2022
Valley First Spring Wine Tastings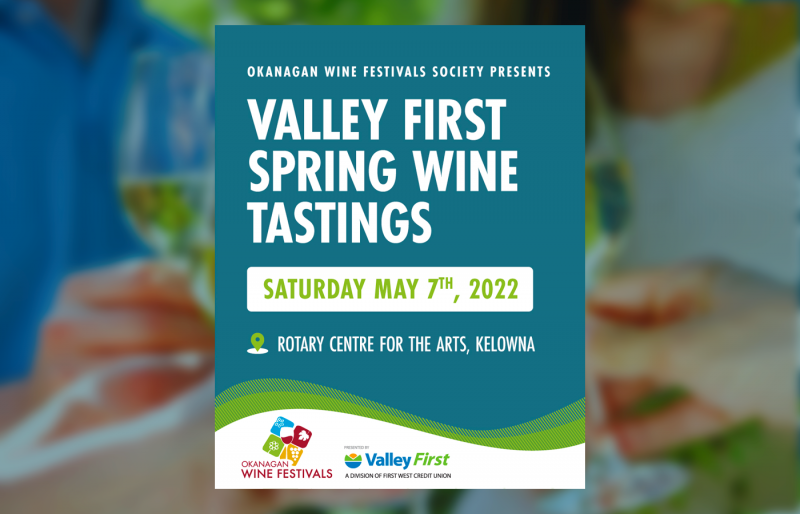 The Valley First Spring Wine Tastings is one of the Okanagan Valley's most popular wine events. Guests will have the opportunity to taste over 130 BC wines all under one roof and enjoy a tour through spectacular Okanagan Wine Country without having to drive! This event features delicious appetizers, live music, and art exhibits. Be sure to stop by the pop-up wine store to take home your favourite bottles. Ticket price includes entrance, food, drink, and entertainment. This is an OWFS Get Home Safe event.
Want discounted tickets to this event and other OWFS Signature Events? Become a Winethusiast to get access to these perks and many more!
This is a 19+ event.
We are following all PHOs as directed by the BC Government.
Additional Details
Cost
$109.00
Location
Rotary Centre for the Arts
Start Time
7:00 pm
End Time
10:00 pm
Event Contact Details
Categories
Buy Tickets »
---
Sneak peek at some of the wineries and wines you will see at the event.
Share on Social Media
---
Check Out Some Similar Events
June 2, 2023
IT'S BACK! SAVE THE DATE June 2 through 11, 2023 Program details to follow in the near future.
View Details »
?> ?> ?> ?> ?> ?> ?> ?> ?> ?> ?> ?> ?> ?> ?> ?> ?> ?> ?> ?> ?>
BC Lieutenant Governor's Wine Awards
British Columbia's oldest and most prestigious wine judging competition that recognizes excellence in winemaking for all British Columbia wineries.
---
Meet our Members
The Okanagan Wine Festival Society is made up of a number of Okanagan wineries and tourism related businesses. Every member is recognized as an outstanding service or product supplier in their related industry.
---
Events
We're proud to produce 3 seasonal festivals with over 100 events annually and an annual wine competition in the Okanagan Valley – one of the world's most renowned wine regions.
---