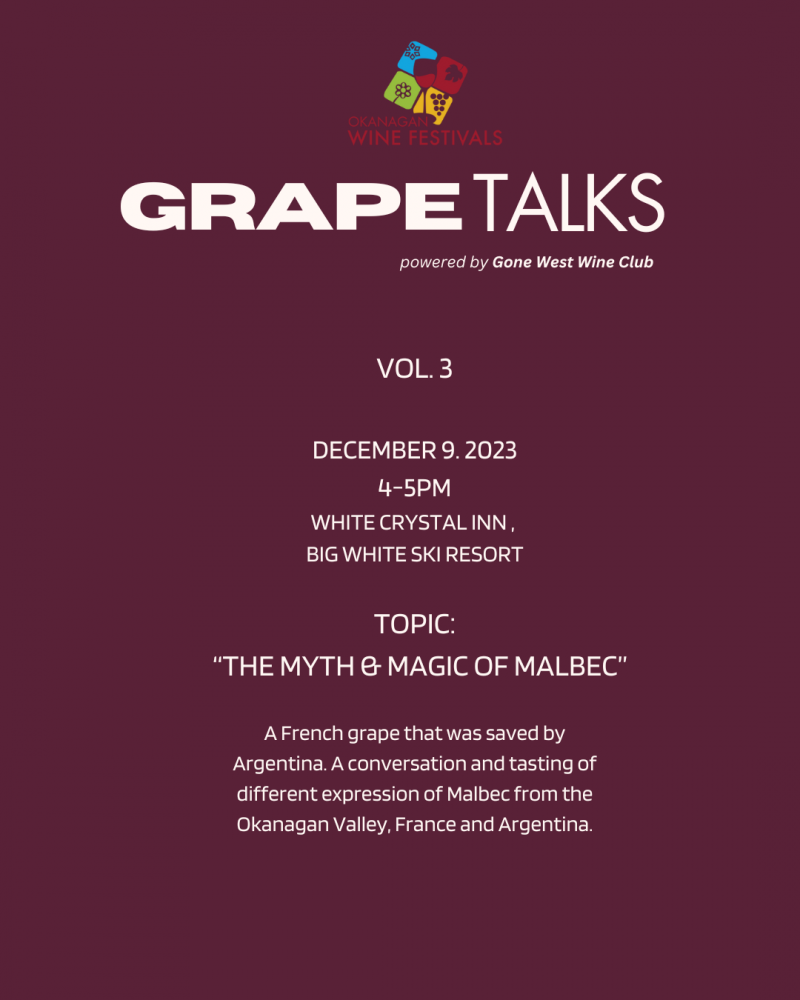 As part of the Big Reds at Big White Festival, the Okanagan Wine Festivals in partnership with Gone West Wine Co. proudly presents:
GrapeTalks - Vol. 3
Location: White Crystal Inn Conference Room, Big White Ski Resort
What is GrapeTalks?
A series of conversations dedicated to understanding the roots, teasing the palate and connecting the wine community.
Topic: "The Myth & Magic of Malbec"
A French grape that was saved by Argentina. A conversation and tasting of different expressions of Malbec from the Okanagan Valley, France and Argentina.
Event details:
The seminar includes a tasting of 6 different Malbecs, four local expressions and two international. Learn from your host and the talented local winemakers how this once beloved French grape experienced a rebirth in Argentina and over the years has become a world favourite among red wine lovers.
Host: Jo Audette, wine consultant & buyer
Jo is an accomplished wine consultant, sommelier and wine buyer based at Big White Ski Resort, catering to a national and international clientele. Jo has spent the last twenty-seven years in the hospitality industry, seventeen of those years have been focused on wines, wine pairing, and development of wine menus and cellars. Most recently, Jo served as a judge for the BC Lieutenant Governor Awards in the Spring of 2023 in Penticton. BC.
BC Winemakers:
Mt.Boucherie Estate Winery - Jeff Hundertmark
Road 13 Vineyards- Barclay Robinson
Moon Curser
Roiver Ston